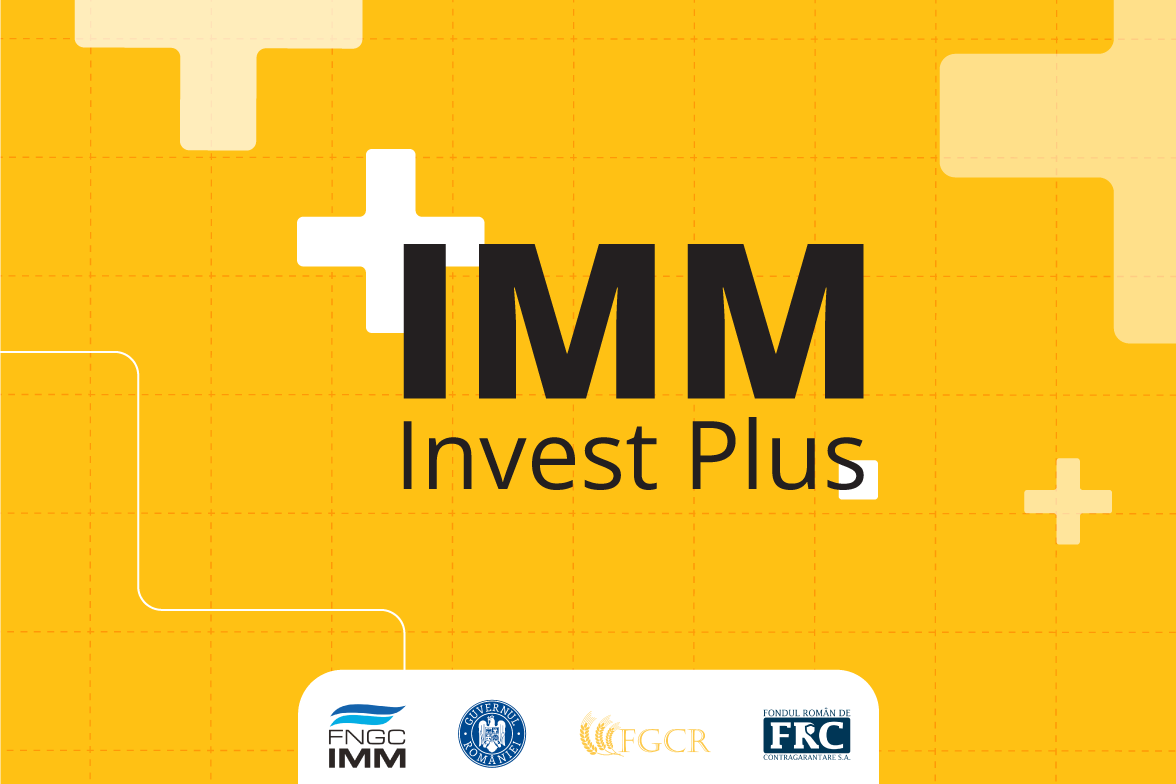 About SME Invest PLUS
SME Invest Plus, with all 6 components: SME Invest Plus, Agro IMM, Garant Construct, SME Prod, Inovation and Rural Invest, is a government program that helps SMEs and large companies in Romania to secure working and investment capital in the current context. 
In short, you access state-guaranteed financing, for carrying out the current activity or for investments.
You can find more details on: www.imminvest.ro
What advantages do you have
mYou do not pay interest for 12 months after the loan is granted. 

Exceptions are the beneficiaries of the Agro SME Invest component in the field of primary agriculture, aquaculture and fish farming.

mZero risk and management fee
mYou have state guarantees – the state insures 90% of the loan value
mYou can get up to 5 million for financing your current business or a maximum of 10 million for investments. 

Exceptions are the beneficiaries in the field of primary agriculture, aquaculture and fish farming, for which the maximum value of the financing is 5 million lei.

mFinancing of current activity for a maximum of 36 months or investments for a maximum of 72 months


Maximum amount of funding 
15% of the average total annual turnover in the last three closed accounting periods OR
50% of energy expenditure (electricity and natural gas) in the 12 months preceding that in which the aid application is submitted
sizing funding according to your company's project (conf. OUG99/2022)
Steps to follow
1
Apply on the SME Invest website
You select the fund you want to issue your state guarantee and Banca Transilvania as a partner bank in the program.
2
Fill in the data online
You fill in the identification data, sign electronically and attach the SME declaration.
3
After that, you receive a registration number and a confirmation message
If the data is correct, FNGCIMM/FGCR/FRC will issue the agreement in principle on eligibility under the program.
4
We get in touch with you
A representative of BT will contact you to determine the next steps.
5
We do a check
We analyze the documentation, we issue the decision on the transaction and then we send for final analysis to FNGCIMM/FGCR/FRC.
6
You get the final decision
After the final answer received from FNGCIMM/FGCR/FRC regarding the granting of the guarantee, we will send you the final decision.
What documents do you need
The last three annual balance sheets together with the related balance sheets and receipts
Last completed quarterly trial balance
Tax attestation certificate
Tax and judicial record of administrators
Legal-constitutive approval regarding the contracting of the loan
Documents for the proposed collateral, if the loan is secured by collateral
How do you get the loan?

Upload the company's paperwork and skip the first step.

Leave us your details and we will contact you.