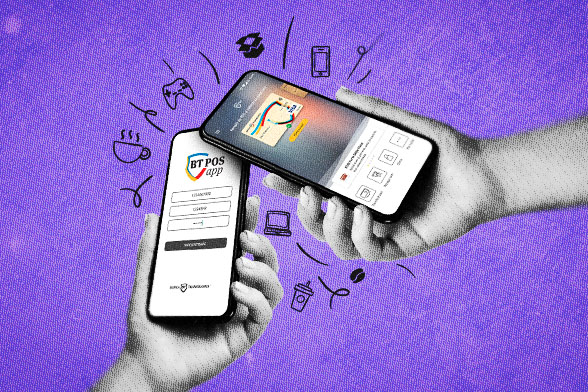 POS directly on your phone
The BT POS App allows you to accept payments with your contactless card directly on your Android phone. Without cables or other equipment, your phone or other Android device turns into POS whenever and wherever you need to charge a payment.
 I WANT BT POS App
For business on the go
The app is suitable for merchants who are always on the move, who need mobility even when it comes to payments:
Delivery services
Passenger transport
Taxi
Catering
Florist
Insurance brokers, etc.
Like a classic POS, but a little smarter

Environmentally friendly
The receipt is electronic, we send it to you by email, so you can download it in .pdf format.

Quick installation
It's easy to install and you have it with you no matter where you are.

Full control
You control who has access to the POS. Plus, you can see all your transaction history.

Round-the-clock support
Whenever you need support, you can get in touch with us by phone 0264-597.710 or email commercial.pos@btrl.ro. 
Costs
Okay, fine, but... let's also talk about how much it costs you. That depends, if you already have a current account package from BT. 
That is, if you have the Unlimited package or the Free First Year Account, you also have a better cost if you get your BT POS App by June 30th.
Administration fee: 15 lei
Comision de încasare: 0,9% 0,7% pentru cardurile persoanelor fizice (cu excepția cardurilor de masă )

Good to know:
Works on WIFI or mobile data
Read cards and other contactless payment devices
Accept Mastercard, Visa and Maestro cards for payment
Payment sale and cancellation features
It's as safe as the classic POS
You can only use the app if your phone is secured by password, fingerprint or another security method offered by your phone
How to install BT POS App?
1
You sign the commercial contract for the payment solution for the first time. We solve this super easy: fill out the contact form online and a colleague will get in touch with you in the shortest time.
2
We then email you the links for downloading and installing POS and PIN applications. You need both installed apps to manage transactions securely from your device.
3
You then log in to the BT POS App with the credentials that we send you via SMS:
MID (merchant id) and
TID (terminal id)
You receive the activation code in a separate SMS
I want POS App

Fill in the contact form with your details and we will get in touch with you as soon as possible.
I want POS App