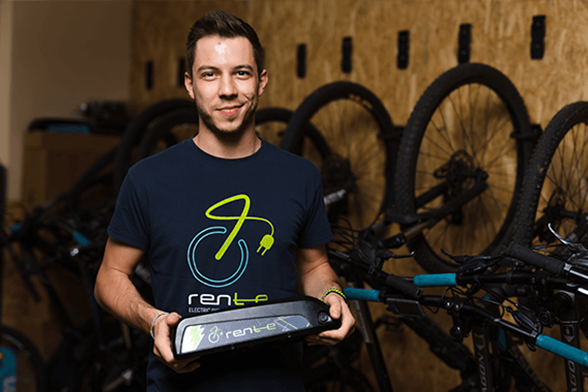 First year free,
in brief
We know that the first year is the hardest in business. That's why we thought you could use a few freebies and a package with unlimited transactions in lei and foreign currency, a Visa Business Silver debit card, Internet & Mobile banking and more that we invite you to discover.
I WANT THE PACKAGE
It even has everything you need
Unlimited payments and receipts in RON and foreign currency
online or with check and promissory note
Card de debit Visa Business Silver
unlimited card issuance and annual maintenance
Opening current accounts
unlimited in lei and foreign currency
The first 5 cash pickups from ATM BT
valid for the debit card – Visa Business Silver
The fees charged by the NBR, Transfond, correspondent banks and fees for emergency payments are not included.
Non-banking services included
You also have 12 months of free for the non-banking solutions SmartBill, Online Mastery and Regina Maria Network.
Thus, after activating the First Year Free Account package, in about 10 days you will receive an email with the activation instructions for each of the 3 solutions.

Free account at SmartBill, the most modern and easiest to use management and billing software, chosen by another 50,000 companies. Benefits for your business:
Personalized invoices with your logo and professional look
With one click you send the invoice by email or you can print it
Generate reports and are informed about the evolution of your business
Set automatic notifications for customers who delay payment
Manage stocks and necessary documents (receipts, sheets, reception entry notes, etc.)

Free account on Online Mastery StartUp, an online platform with video tutorials with practical online marketing tips. You have the opportunity to learn how:
build integrated online marketing campaigns
create a website or sales page
use a blog and optimize it
advertise online through Google and Facebook
to run e-mail marketing campaigns and send newsletters

You get free medical care for 12 months through the Regina Maria Health Network. Specifically, the IMM Start-Up package contains:
Occupational medicine: medical check-up on hiring, regular medical check-up, half-yearly and annual reports for up to 10 employees
General and internal medicine – 1 consultation / year
20% discount for specialized consultations, analyzes, radiology, ultrasounds
Medical hotline 24/7 – medical advice in case of an emergency
HR portal – reports with the situation for Occupational Medicine. Access to the Skills Sheets with electronic signature, directly on the platform
Access to the 46 own polyclinics and over 300 partner medical centers
In order to benefit from this package, you will need to conclude a 2-year contract with Regina Maria. In the first year the package is free and from the second year onwards the cost will be €6 per month for each registered subscriber.

You have 12 months in which you can complete your Unique Declaration for free through the SOLO app. You generate your statement directly from your mobile in just two minutes.

Conditions for granting
apply for the package within the first year of setting up the company
open a business account with BT, the good news is you can do both 100% online, right now
I want the package

What documents do you need?
To set up the online package you only need the identity card and meet the conditions for opening online.
If you're not eligible to open an online account, here's what documents you need when you come to the agency:
The company's instruments of incorporation
Certificate of Registration with the Trade Register
Certificate of ascertainment from the ONRC issued up to 30 days before the submission to the bank of the documents for account opening
For non-residents, all the mentioned documents certified and translated into Romanian and the copy of the VAT registration number of the country of residence are required
In some situations, we may ask you for additional documents.
Don't forget to make an appointment online beforehand.

Good to know
After 12 months, the First Year Free account automatically converts to the BT Unlimited Network Current Account package, which costs 29 lei per month.
If this is not what you want, you can choose one of the other 3 options:
Unlimited&10
Unlimited&25
Unlimited All Inclusive
I want the package

Open 100% online account and you have the First Year Free package included.
I want the package