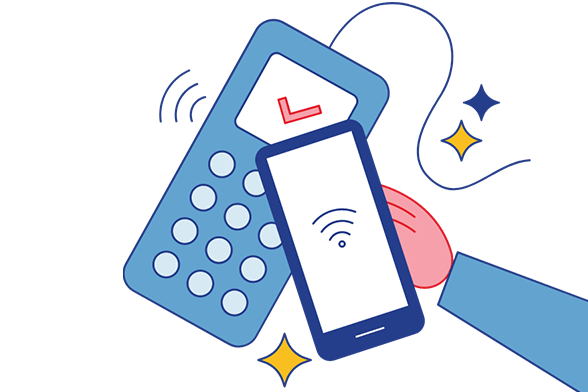 BT POS at a glance
Are you looking for a secure, fast, and very easy to implement solution for your company's cash receipts? Try the BT POS, with it you can cash contactless from your card, phone or smartwatch.
Benefits

We install your free POS
It costs you nothing to have a POS from us. We pay for everything, even supplies.

Installation takes a little time
No need to put the business on hold, we do it all.

We offer free POS signage materials
We know it's important to communicate changes to your customers.

We train you for free
We make sure you and your employees know how to use the POS.

We offer you free, round-the-clock support
Whenever you need help, you can call: (+40) 800 802 666 or 0264 597 710.
POS terminals
Just right for your business. Our POS terminals are ergonomic, easy to place on any customer desk and are easy for your employees to use. Less cash, more convenience for your customers too. Money goes into your BT account quickly, you can access it anytime via mobile banking. We provide GPRS (mobile data) communication for secure transactions.
A mobile POS, ideal for your business on the move. The terminal is suitable for restaurants, deliveries, taxis or any other business that requires you to go after customers. We provide GPRS (mobile data) communication for secure transactions.
If your business needs product vending machines, parking meters, public transport terminals, charity boxes or any other system with unattended payment terminals, you can buy them from our partners and we will take care of the transaction processing.
MORE
POS support
Our dedicated team is available around the clock to offer you:
mPos usage training whenever needed
mTechnical support on the phone and going to the merchant in a short time
mSupport for integration with ECR (Cash Register)
mSupport for questions related to card transactions on POS
I want POS

I want POS