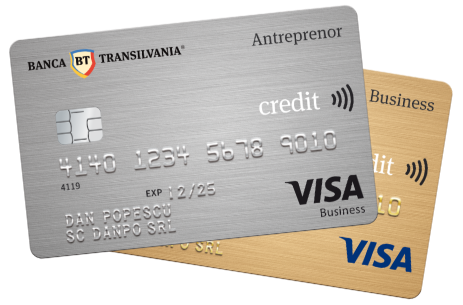 About
The credit card is basically a loan granted on an account to which a card is attached.
It is very useful for purchases of lower values, such as paying fuel, utility bills or even for trips abroad.
Advantages
m

You have up to 55 days of grace, you can pay in installments or you can accumulate points on every purchase from Star partners

m You've included Ensuring for travel abroad
m You recover the external VAT, if you make payments abroad
m You get discounts at partner merchants STAR
mCheck at any time the amounts available on the card from the application BT Pay or on Whatsapp, via Raul from BT
mWith the VISA Business Gold card you have access to Business Lounges from Bucharest Henri Coandă International Airport and Cluj-Napoca International Airport
Minimum conditions for granting
Your company must:
It is not forbidden to issue bank checks
There are no delays in loans in the Credit Risk Central
Does not have active registrations in the Insolvency Bulletin

Good to know
The maximum limit for cash withdrawal for all VISA Business Silver and VISA Business Gold cards issued per company is 10,000 lei / day.
Pos and Internet payments limit is 20,000 RON / day / card (applicable from 15 March 2022).
Internet payments limit is 5,000 RON with CVV/day/card and 0 RON for payments without CVV/day/card.
The European Directive PSD2 (Payment Services Directive) on the security of card payments limits contactless or online payments without authentication by PIN code or biometrics – fingerprint, FaceID, etc. If you add your Business card to BT Pay, you get rid of this worry.
Learn more in the Credit CardGuide.
Your Business cards are all digital, through the BT Pay app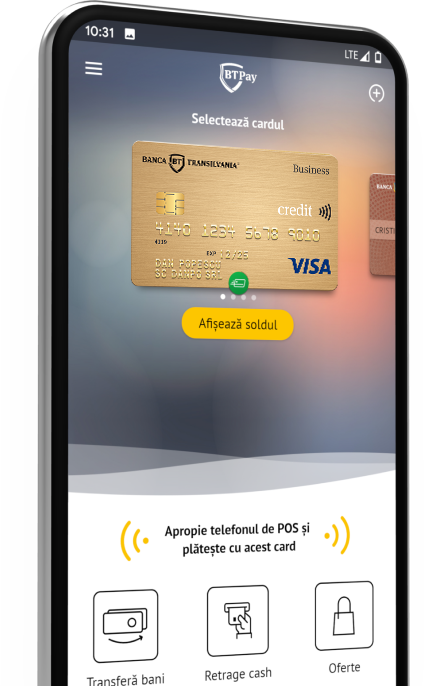 Raul from BT
Simply from WhatsApp, you manage your business.

Quickly view your business account details directly from your phone.

You want to receive
home card?
If your business card expires this month, you can receive it by courier, directly at home.