What is the use of a credit factoring?
m You have a recurring commercial relationship with a partner
m You need to collect the value of the products or services invoiced earlier than the payment term established with it
m You want to benefit from protection against the risk of non-payment of your partner
m You want to save on personnel and administrative expenses
Advantages of a credit factoring
m Collect your invoices faster
m You receive an advance from the invoices issued to your partners before their due date – you turn a term payment into immediate liquidity
m You pay all your expenses on time, state, salaries, utilities
m Your earnings are higher, you can pay suppliers faster – you get discounts 
m You have faster revenues – you have lower financing costs 
m You manage receivables through the bank – you save on personnel and administrative expenses
m Increase sales by giving your customers longer payment terms 
m Thus, you have an advantage over the competition, you gain new customers and you develop relationships with existing partners
m If you have higher sales, you have bigger receivables, so you get more funding
m You reduce risks, you evaluate your client portfolio with the help of the bank – you build your sales strategy 
m You have non-payment risk insurance (factoring without regress) – you eliminate losses from unrecovered receivables or bad paying clients
I want to be called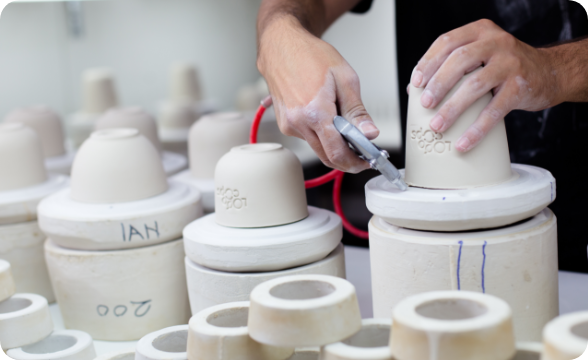 Good to know
It is not necessary to justify the destination of the money
You don't need any additional warranties
Self-reimbursable facility
Automatic (digital) financing process through BT Web Factoring
Conditions of granting
m You have a recurring commercial relationship with your partner, based on a commercial contract or order
m Your company is not in a ban on issuing bank cheques
m It does not appear with delays in loans in the Central Credit Risks Register
m Your company does not have active registrations in the Insolvency Proceedings Bulletin
What documents do you need
The fiscal invoice together with the documents established in the relationship with your partner
Copy of the latest financial statements
Tax attestation certificate
Legal/ constitutive approval regarding the contracting of the factoring facility and the persons empowered to hire the company
Here's an example:
You are a producing company, you have a recurring relationship with a partner and you issue to them invoices with a payment term of 60 days.
Based on the factoring contact concluded with BT, after the delivery and reception of the goods, you can collect a percentage of up to 100% of the value of an invoice. At the due date, your partner pays the invoice to the factoring collector account and the financing is extinguished, and the difference (if any) is transferred to your current account.
Also, BT manages you, amicably collects your invoices and, in addition, it can cover your partner's risk of non-collection (factoring without regress). What does that mean?
If your client goes into insolvency or prolonged non-payment and the invoices are not affected by the commercial dispute, after a contractually agreed period, you recover the insured percentage.
With professionalism and with care for your commercial relationships, by factoring we help you grow your business healthy.
Apply for credit online
Factoring calculator
Calculate the amount you can be financed with based on the bills you have to collect.