Changes from January 2021
In order to make your online payments as safe as possible and in accordance with the legislation on payment security, from January 2021 we bring new security elements for the confirmation of online payments. This way you will know that any transaction you make online will be done safely and that no one will be able to make transactions using your card details.
However, payments become simpler and faster – with your phone, through the BT Pay app.
How can I confirm an online payment? It's simple. You have 2 variants.
1
The recommended option - with fingerprint, FaceID or the method of unlocking the phone, via BT Pay.
With each online payment, you get instant notification on your phone and confirm the transaction using the unlocking method of the phone.
2
By entering two passwords
A dynamic password received by SMS on the bank's declared phone number and a unique password defined by you when you pay online. You will change your unique password every 90 days.
Authorising online transactions via BT Pay is simple, fast and complies with the requirements of the revised European Payment Services Directive (PSD2) for strict customer authentication.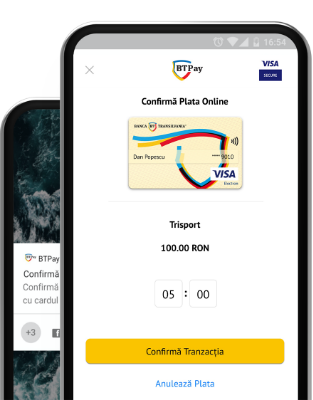 Confirm with BT Pay
Download BT Pay without trips to the bank, free from Google Play or the App Store, add BT cards (even company cards) and you're done.
When you pay online, you instantly receive a notification on your phone and can confirm or cancel that payment using your fingerprint, Face ID, or phone unlock method. It's simple, fast and safe.
What's more, you have all your card details in the app - card number, expiry date and CVV - details you need when paying online.
BT Pay also helps you pay by phone, check your balance, transfer money and more - see here.
Do you have any questions? You can find the answers here .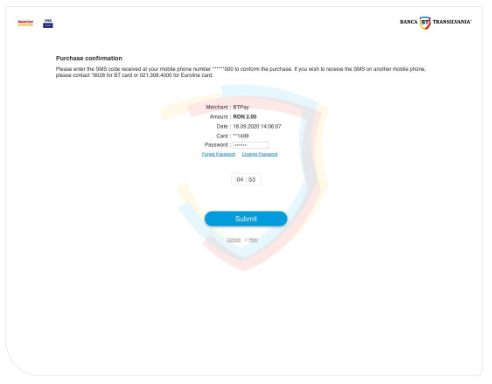 Confirming online payments with 2 passwords
If your phone is not compatible with the BT Pay app, you can confirm payment online by entering two passwords:
A dynamic password received every time you shop online, by text message to the phone number registered for online payments in the bank's system
A unique password defined by you. You'll define it when you make your first online transaction, from January 2021, if you haven't activated the BT Pay online payment authorisation option. You will need to change this password once every 90 days.When you pay online, you'llhave this option on the one-time password page.
Do you have any questions? You can find the answers here .
Flow of payments on the internet through BT Pay

Choose the products and complete the order
d

Enter your card details (you can find them in BT Pay under card details)
d

You're redirected to a secure page
d

You get notification on your phone
d

Access the notification and confirm the payment with the method of unlocking the phone
d

Return to the secure page and track the completion of the order
3D Secure
What is 3D Secure?
3D Secure is an international security standard for internet payments that aims to further protect the cardholder and reduce fraud in the e-commerce area (online payments).
The revised European Directive on payment services brings new security elements in the confirmation of transactions, a stronger authentication of the customer, respectively the existence of at least two of the following elements: something you know, something you have and something you are.
We recommend that you choose to authenticate your online transactions through BT Pay, the process being simple and fast.
How does 3D Secure work?
When you pay online, on the website of a 3D Secure merchant, after you enter your card details, whether it is a Visa or Mastercard card, you will be redirected to another page confirming the payment through 3D Secure. You will confirm the transaction in the manner of your choice:
If you have the BT Pay app and you have enrolled your card in 3D Secure, you will receive a notification on your phone, where the name of the merchant and the payment amount will be mentioned, and you will have 5 minutes to confirm or cancel the online transaction. You will use the method of unlocking the phone: fingerprint, make ID, pin, password, etc.
If you do not have the BT Pay app and the card enrolled, you will enter a password received on SMS from us and a static password, defined by you at the first online transaction. The password is valid for 90 days and you will need to change it later.
Do I need to confirm every payment online?
There will also be online payments that do not require additional confirmation steps, based on your payment history, depending on your payment behaviour, the sites where the payments were made, whether they are recurring payments, i.e. subscriptions or small value payments. This analysis can be carried out by the bank or merchant. For example, you pay bills month after month to the same supplier or you are a loyal shopper on a certain site where the merchant has defined a profile of you. From 2021 there will be continuous improvements to these analytics, so there will be more situations where you will not be required to strictly log in.