NOUCardvirtual
BT UNTOLD x Visa
Banking
NEW BT UNTOLD x Visa Virtual Card
For lovers of music and magic, we have created the animated virtual card
a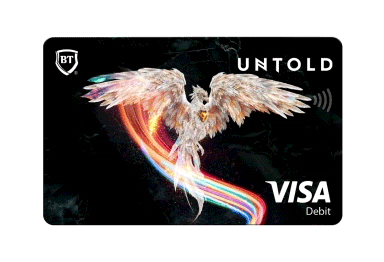 r
BT UNTOLD x Visa Virtual Card
We took inspiration from the electrifying energy and vibe of festival-goers and created a specially designed virtual card that works (almost) like a normal debit card, only you get it in just a few taps, directly from BT Pay, without physically getting it. You can make secure online payments, plus enjoy special offers and prizes.
Cash or card? Phone
No need to stop the conversation or close other apps
a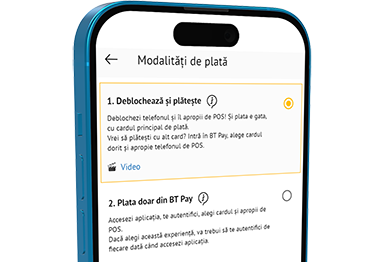 r
Cash or card? Phone
Did you get to the house? Just unlock your phone and bring it close to the POS without opening the app. Unlock & Pay*, quickly and easily, without a PIN. And no fee. Discover all the ways to pay in the app settings.
*You can pay with your phone if you have NFC available on your Android. If you have an Apple, one click sends your BT Pay cards to Apple Wallet and paying with your phone is just as easy.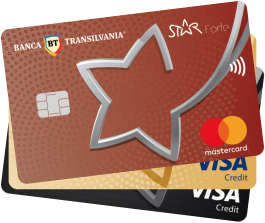 Shop super-easy
BT Pay saves you even when you need a safety net
a
You pay the bills
Just a few taps to pay your utility bills
a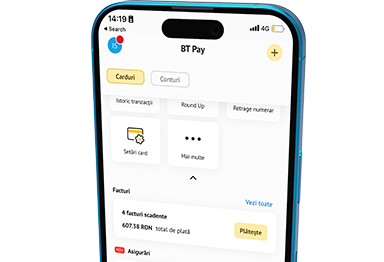 Send or ask for money
Directly on your phone or via IBAN, in one go
a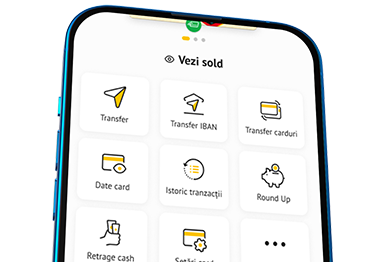 Overdraft, your secret pocket
Where you can find money when you need it
a
Online payments are secure
And easier to confirm than ever
a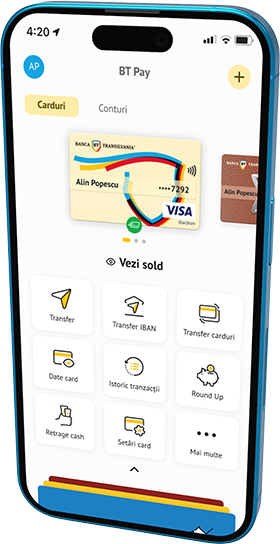 BT Pay
Round Up
Choose a rounding multiple: 1 leu, 5 lei or 10 lei. For every payment you make with your debit card, you'll save without realising the amount left until the chosen multiple. The money goes into your Round Up savings account, which also earns interest.
Find out more here.
RCA Insurance
You can take out your MTPL insurance policy directly from the app. It's all done online in a few simple steps. First you need to choose one of the offers in BT Pay and upload the necessary documents.
Then you will receive the policy directly by mail.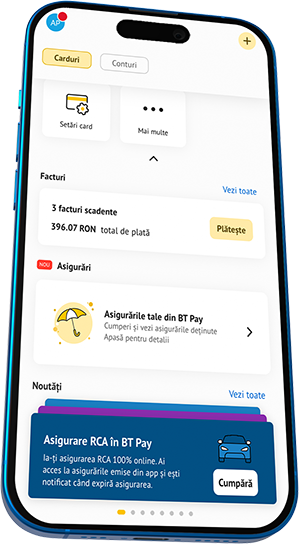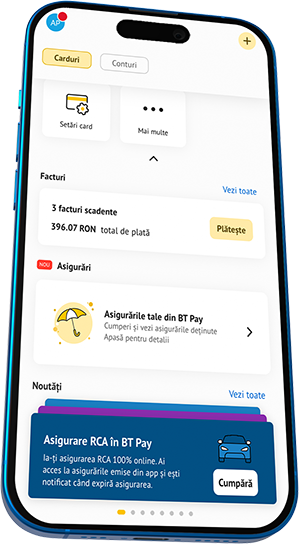 Withdraw cash only with your phone
So you can have cash whenever you want: you generate a code that you use at any BT ATM and you have cash on the spot.
Because the phone is the new wallet. 🥰
Travel insurance
Rather than forgetting your travel insurance, it's better to do it early: directly from the app, for 1 full year.
It is available for travel both in Romania and abroad. Fill in some information about yourself and how you like to travel and we will find the best option for you.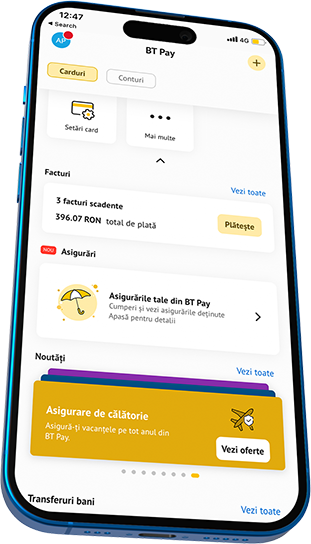 NEW
Virtual card for online shopping
The virtual card is almost like any other debit card, only you see it instantly in BT Pay and use it directly from the app. You don't get it physically. It's a first-of-its-kind card design in Europe, perfect for secure online payments, especially when you want to pay on a website with a particular card.
FIND OUT MORE
Next level
Your accounts, your control
You can find out your balance, transaction history, including account credits. Initiate transfers in lei, transfers between own, debit or credit accounts and set up recurring payments from your current accounts.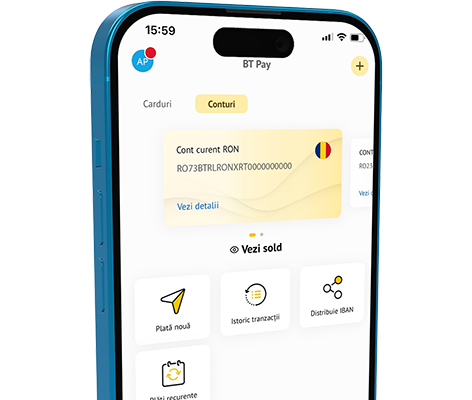 All from the app,
in real time
Live in the moment, even when you're banking. Find out at any time where your money is, what you've spent it on and when. All - in just a few taps.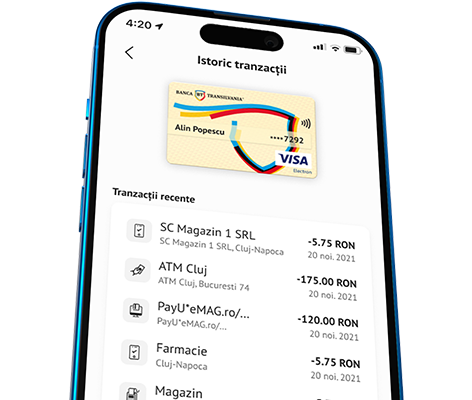 You have control over your cards
Change the limit on your online and offline transactions, ATM withdrawals and the number of transactions you can make in a day. Plus, you can block or unblock cards whenever you need to.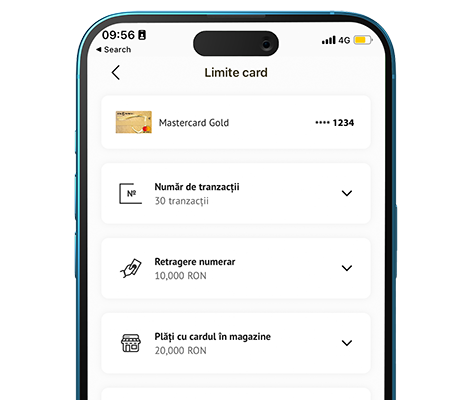 Activate the app without trips to the bank
Download the free app, add your BT cards, even Business and non-BT cards and you're ready for #EasyBanking.
How much does it cost? See the list of fees and commissions.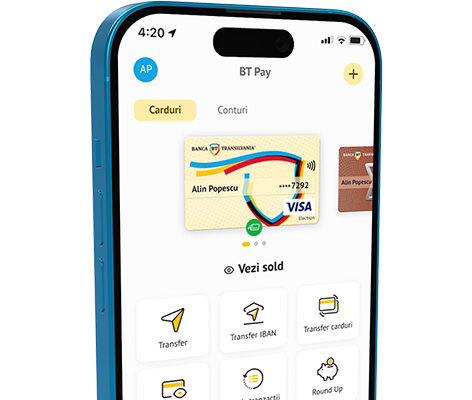 Expenditure chart
For each card you have a graph of your spending, by area: utilities, supermarket, transport, leisure, etc. This will make it easier to know where you can save.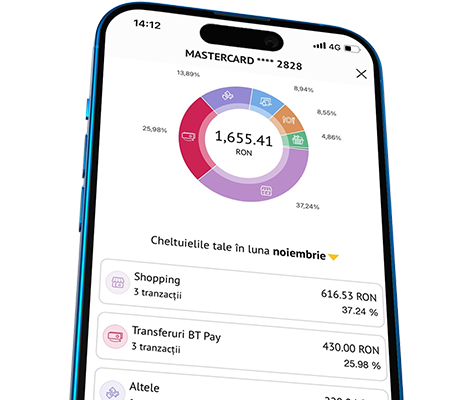 Manage your credit card
Find out everything about it: what is the due date, what is the minimum payment amount, how much is the interest. You can choose whether you want to pay the full amount or just part of it, automatically or manually, on or before the due date.
Plus, the chart helps you see exactly what the balance and obligations are.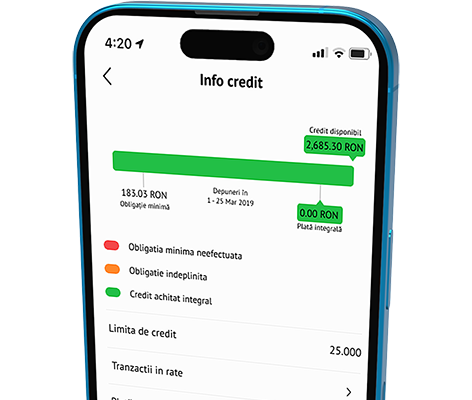 One application
And financial intelligence is learned, isn't it?
Share everything with friends. Even the note.
Donate to NGOs
Don't let any offer slip through your fingers!
Get the big prize for moving!
With Alias Pay, you can make transfers in no time.
An app open to new ideas. And new cards.
Add non-BT cards