Until November 25, you can apply for four scholarships of 32,000 euros at the Transilvania Executive Education MBA
16 November 2022 Reading time 3:00 minutes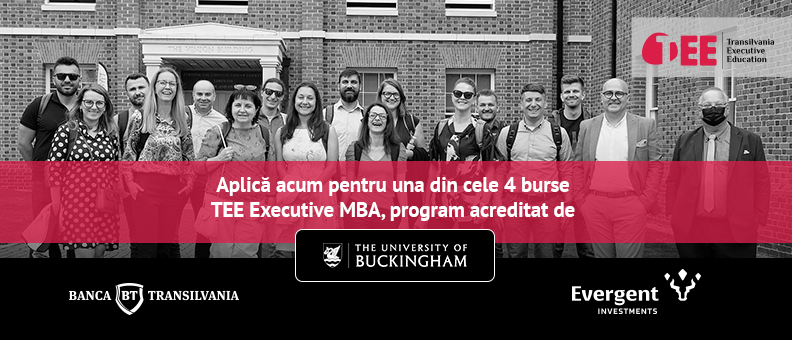 On November 17, starting at 18.30, the Q&A Online Session will take place
The 4 scholarships are worth 32,000 euros
New Exec. MBA class starts on the 15th of February 2023
Transilvania Executive Education (TEE), Banca Transilvania (BT) and EVERGENT Investments, in partnership with Republica.ro, have started a competition in which four partial scholarships totaling 32,000 euros will be offered at TEE Executive MBA - General Management. The program is 100% British and the graduation diploma is offered by Buckingham University.
Candidates must have at least three years of post-graduate professional experience in an executive role and have an advanced knowledge of English. They can apply until 25 November this year, inclusive.
Calendar:
November 17, from 18.30 to 19.15, a Q&A session will take place via Zoom, coordinated by Andrew Taylor, director of the Executive MBA program;
November 25th – deadline for registrations on the MBA website;
26 November – 8 December: Evaluation of candidates;
December 9th: Announcement of the scholarship winners on the website and social media channels of Transilvania Executive Education.
To register for the competition you need the following:
1. Fill in the two steps in the competition registration form, available on the TEE website:
a business plan using the model in the application form;
an essay to answer the question: What are the most important challenges that managers will have in 2023 and what solutions should they develop/implement?
2. CV in English/ or mentioning the link to the LinkedIn profile in the registration email. It is recommended to include in the CV all the achievements obtained professionally, academically and socially.
3. A letter of recommendation, in English, from a business partner or employer.
4. Sending the documents referred to the address office@teecluj.ro, by 25 November this year (inclusive).
" If you are thinking of applying for a scholarship, here are some tips: when writing the application, our recommendation is to prove, in writing, that you have an analytical and critical mindset. In other words, you can use models, theories to identify patterns, to give meaning to the proposed solutions, and you can see the strategic meanings, problems and opportunities in explanations. The Executive MBA program is designed to develop this capacity, so after the two years of study you will notice major changes in your management style, but also in the community you are part of. Good luck!" says Andrew Taylor, director of the Executive MBA program.
Executive MBA courses begin on February 15, 2023. They are organized in 12 modules - strategy, leadership, systemic thinking, economics, complexity, governance and digital transformation, taught by professors from universities in Europe, the United States of America, as well as in Romania.
Press contact
A little more
I just sent an email to you. Confirm your subscription by clicking on the link in the email.