Partnership for Romania: Banca Transilvania is the main partner of the European Capital of Culture 2023 – Timisoara
06 December 2022 Reading time 2:00 minutes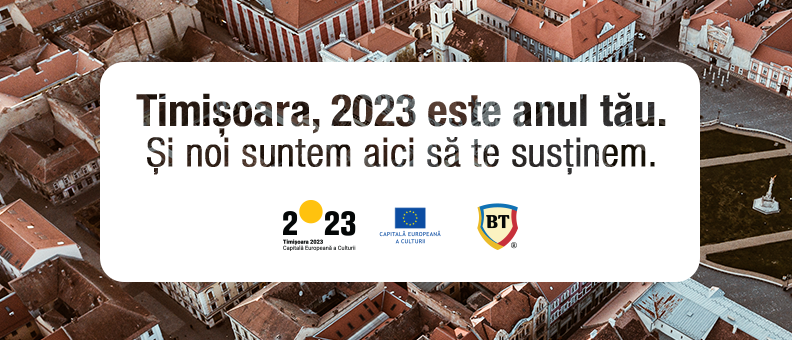 Banca Transilvania, the largest bank in Romania and South-Eastern Europe, is the main partner of the European Capital of Culture 2023 - Timisoara. The title conferred on Timisoara by the European Parliament means the largest cultural engagement in Romania - events and initiatives throughout the next year.
We congratulate Timisoara for this title. For us, Timisoara 2023 is a country project and it comes naturally to us to get involved because we feel that it is our role to be there, to finance, to support Romania and the Romanians. The entire cultural, touristic and social effervescence that is built around this title can generate investment, prosperity and can be the start of a virtuous circle. Skills are created in different industries – such as creative or tourism – and which contribute to the sustainable development of the city and the region. We invite the people of Timisoara to enjoy everything that this project means, and the Romanians from all over the country, to visit Timisoara, says Ӧmer Tetik, General Manager, Banca Transilvania.
The BT partnership for Timisoara 2023 involves the following:
on the one hand, the bank supports at a centralized level the promotion and communication of the project, as well as the large projects of the Timișoara Project Center and of the Center for Culture and Art of Timiș County based on a sponsorship;
on the other hand, Banca Transilvania is committed to decentralized support for the Timisoara 2023 Cultural Programme, the NGOs and operators implementing Timisoara 2023;
BT will make available to the operators of the Timisoara Cultural Program 2023 products and financing solutions designed to support their activity and the program.
The European Capital of Culture is an honorary title conferred, for one year, by the European Parliament on a city or several cities, following the evaluation of the candidacies of the localities participating in the competition. It contributes to the cultural, social and economic development of some localities and regions in Europe.
Three cities were designated European Capitals of Culture in 2023 – in addition to Timisoara, it is Elefsina (Greece) and Veszprém-Balaton (Hungary).
Press contact
A little more
I just sent an email to you. Confirm your subscription by clicking on the link in the email.