Banca Transilvania and Tășuleasa Social, long-term partnership for the sustainability of Via Transilvanica
09 March 2023 Reading time 4:00 minutes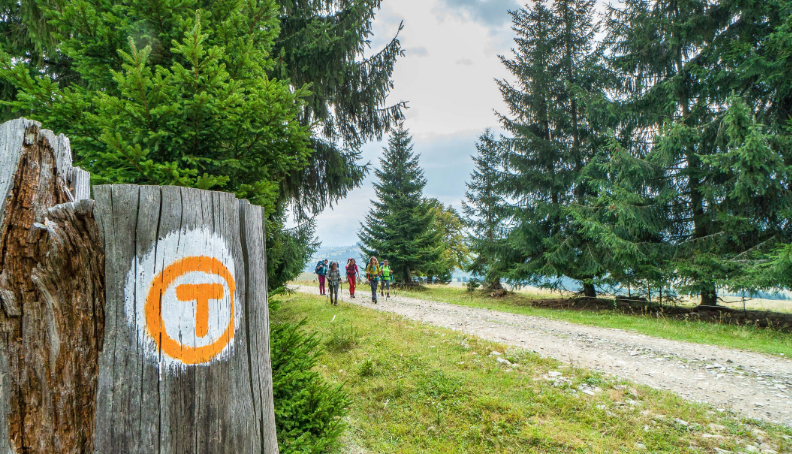 Banca Transilvania supports Via Transilvanica through a strategic partnership, for at least three years, with Tășuleasa Social. BT contributes to this project financially, and through volunteering and promotion activities.
Via Transilvanica - The road that unites the country is addressed to people of all ages, who want to discover places, history, culture and communities as well as to do outdoor activities. The 1,400-kilometre-long route links the country diagonally from Putna to Drobeta Turnu-Severin, passing through 10 counties.
For us, Via Transilvanica is a country project, a project with which we identify totally, because the whole idea of the project is about Romania, just like BT. It gives us the opportunity to do even more for our country, to contribute to the formation of a community attached to the nature and to the development of the communities through which it passes. It unites Romania, it reinvents tourism, it's about courage, mobilisation, generosity and sustainability. - declares Ӧmer Tetik, CEO, Banca Transilvania.
Now, after the completion of the first long-distance route in Romania, which has become a national infrastructure of 1,400 kilometres, we are very happy to have Banca Transilvania as our partner again, to take care of it and make it sustainable. The quality and safety of the route are our utmost priorities for the next three years, and to ensure this for those who will use it, a long-distance partner is needed. - states Alin Ușeriu, Manager of Asociației Tășuleasa Social.
Details:
Via Transilvanica passes through the following counties: Suceava, Bistrița-Năsăud, Mureș, Harghita, Brașov, Sibiu, Alba, Hunedoara, Mehedinți and Caraș-Severin. The route can be covered regardless of the season, in stages or entirely, by foot, bicycle or on horseback.
The project promotes Romania's cultural, ethnic, historical and natural values and diversity.
The Via Transilvanica project was launched by the Tășuleasa Social Association in 2018 and the development was completed in 2022.
The collaboration between Banca Transilvania and the Tășuleasa Social Association has a ten-year history, through the volunteer afforestation programs, i.e. Transylvania Forest. Over the years, BT, Tășuleasa Social and more than 15,000 volunteers have afforested a total area of 75 hectares with 450,000 seedlings, in several counties of the country.
Banca Transilvania & Tășuleasa Social
About Banca Transilvania
Banca Transilvania is the largest bank in Romania and South-Eastern Europe. As a universal bank, it covers all customer segments and business lines in the financial sector. It has a 20% market share, almost 4 million customers, more than 9,200 employees, online banking solutions and 500 branches in 180 locations. Banca Transilvania's brand value has surpassed the USD 500 million threshold and has entered the top 300 in the Brand Finance Banking 500 2023. It is also in the Top 10 Strongest Banking Brands Worldwide, with an AAA+ brand rating. Beyond banking, the bank wants to generate a positive impact in Romania - for people, business and the environment.
About Tășuleasa Social Association
Founded in 2000, Tășuleasa Social Association runs ecological, environmental education, sports and socio-cultural projects. The philosophy of the organization was from the very beginning to change the mentality of young people who are going to move things further positively, in their environment. Activities with volunteers take place annually, at afforestation projects, social projects, offering Christmas presents or via environmental education activities in the Pedagogical Forest. Tășuleasa Social has a vast experience in the field of volunteering and in volunteer projects during its 22 years of existence: 14,000 young people and children have gone through the association's programmes, 1.5 million trees planted with the help of volunteers and over 300,000 gifts distributed in the country.
Press contact
A little more
I just sent an email to you. Confirm your subscription by clicking on the link in the email.