Banca Transilvania has obtained the maximum VEKTOR rating for communication with investors
31 January 2023 Reading time 2:00 minutes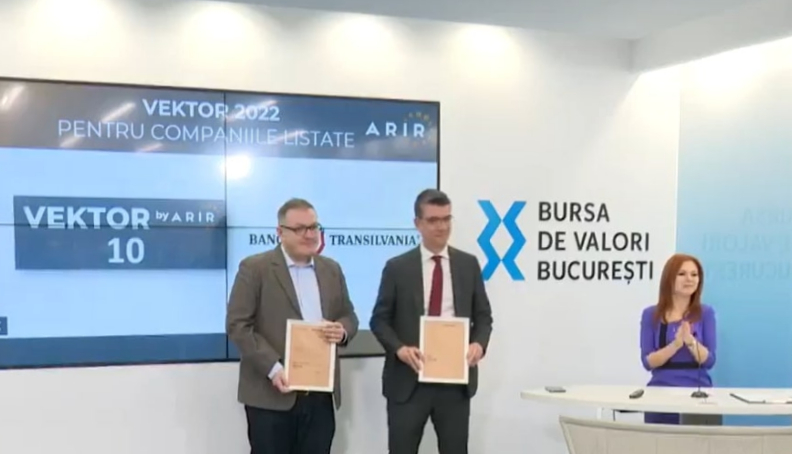 Banca Transilvania has obtained a VEKTOR 10 score, for its communication with investors and shareholders in 2022, following the assessment of the Romanian Association for Investor Relations (ARIR).
This is the fourth consecutive year when BT has received the top rating and is among the three listed companies to have achieved this result since the launch of the VEKTOR index back in 2019.
The bank's communication includes the Investor Relations platform, online meetings, general meetings and one-off information on the BVB website.
What does VEKTOR mean?
It is the indicator of performance in communicating with investors for Romanian companies listed on the Bucharest Stock Exchange, calculated annually.
It can be found on the website of the Bucharest Stock Exchange, on the page of each listed company.
For 2022, the rating has been established on the basis of an analysis that takes into account 12 criteria on transparency, accessibility and regularity of information for investors and shareholders.
News in methodology
ARIR analysed 100 BSE-listed companies from the Regulated Market and, as of this year, also from the AeRO market.
A 12-member working group revised the VEKTOR's Regulated Market methodology based on close dialogue with investors and analysts. Banca Transilvania Financial Group is represented on the panel by Dan Dascăl, Deputy CEO BT Asset Management and Irina Răilean, Head of Research, BT Capital Partners.
Banca Transilvania has over 40,000 shareholders, over 70% Romanian capital and 25 years on the capital market. TLV is the most traded share on the main market of the Bucharest Stock Exchange in recent years. As an ARIR member, BT contributes to the implementation of the best practices in transparency, investor communication and corporate governance, as well as to the sustainable development of the Romanian capital market.
Press contact
A little more
I just sent an email to you. Confirm your subscription by clicking on the link in the email.